LASER, TEAM GAMES & KARAOKE DURING HOLIDAYS!
Here is our new proposal of playful activities to keep your children busy and happy during the holidays!
THE GAME
The Laser game is a delirious group game that takes place in the biggest spatial labyrinth of Brussels: 500m² in Etterbeek!
Hide in the labyrinth, build tactics and earn points by shooting your opponents with your laser. Guaranteed laughter, adrenaline and surprises!
Your child will let off steam and develop his team spirit. Our animators and our laser technology 2.0 will exacerbate his senses : tactics, team spirit, coordination, analysis, self-confidence, all that while exhausting himself with fun.
NEW! SPACE TEAM GAMES
It's a futuristic "Mission impossible" with 11 mini-escape games: laser maze, musical memory, pool full of balls, street basketball, a Just do it course and more.
Teams of 2 to 6 players must complete 11 challenges in a minimum amount of time to earn maximum points, with 3 levels of difficulty to progress.
Timed events combining action, agility, skill and reflection.
Everyone can shine with their skills, but the group must finish the event together to win.
Players fight against the clock, but also in competition with other teams!
A new concept, inclusive and cooperative, a bit sporty and non-violent.
KARAOKE, DRAWING AND BOARD GAMES
Between games, the kids will be able to dance and sing in the birthday area to the tune of their choice in karaoke.
Alternatively they will also be able to play a few board games or make nice drawings
WHEN?
From 29th June to 31st August
From Monday to Friday, from 10am to 5pm
Possibility to come at 9am or stay until 6pm: + 5 € per hour of nursing
PRICE?
5 days from 10am to 5pm : 150€* / + 5€ per HOUR of nursery
* -10€ if your kid and the friend(s) who come along, they will enjoy it even better
1 day from 10am to 5pm : 40€ / + 5€ per hour of nursing required
Drinks (water or grenadine) included
Don't forget to bring your child's Pic Nic which is not included
FOR WHOM?
Children and teenagers from 9 to 15!
FORMALITIES
Registration on site or by email form below.
Don't hesitate to come with friends you will all get a 10€ reduction for one week.
The management reserves the right to cancel the course for less than 5 participants.
Registration and 40€ up-front payment refundable only in case of cancellation on our part.
TYPICAL DAY
9H00 – 10H00  Nursery optional +5€ per hour
10H00 – 10H30  Arrival and welcome
10H30 – 11H00  Presentation of Laser Game and getting to know each other
11H00 – 11H20  Laser Game « classic »
11H20 – 11H40  Pause + Team Games' presentation
11H40 – 12H40  Space Team Games
12H45 – 13H30  PIC NIC provided by the kid (possibility to warm his meal)
13H30 – 14H00  Pause – Karaoké – Drawings or Board games
14H00 – 14H20 Laser Game « classic »
14H20 – 14H40  Pause – Karaoké – Drawings or Board games
14H40 – 15H00  Laser Game « Capture the flag »
15H00 – 15H30  Pause – snack
15H30 – 16H30  Team Game or outside games in the near-by park
16H30 – 17H00  Departure
17H00 – 18H00  Nursery + 5€ per hour
COVID 19: SAFETY IS OUR PRIORITY
Mandatory temperature control before entry. Entry refused if T° > 37.5°C
Obligation for all persons (including parents) entering to disinfect / wash their hands
Space ventilation, masks and gloves (mandatory) for sale on site (1€ per article)
Regular daily cleaning and disinfection of spaces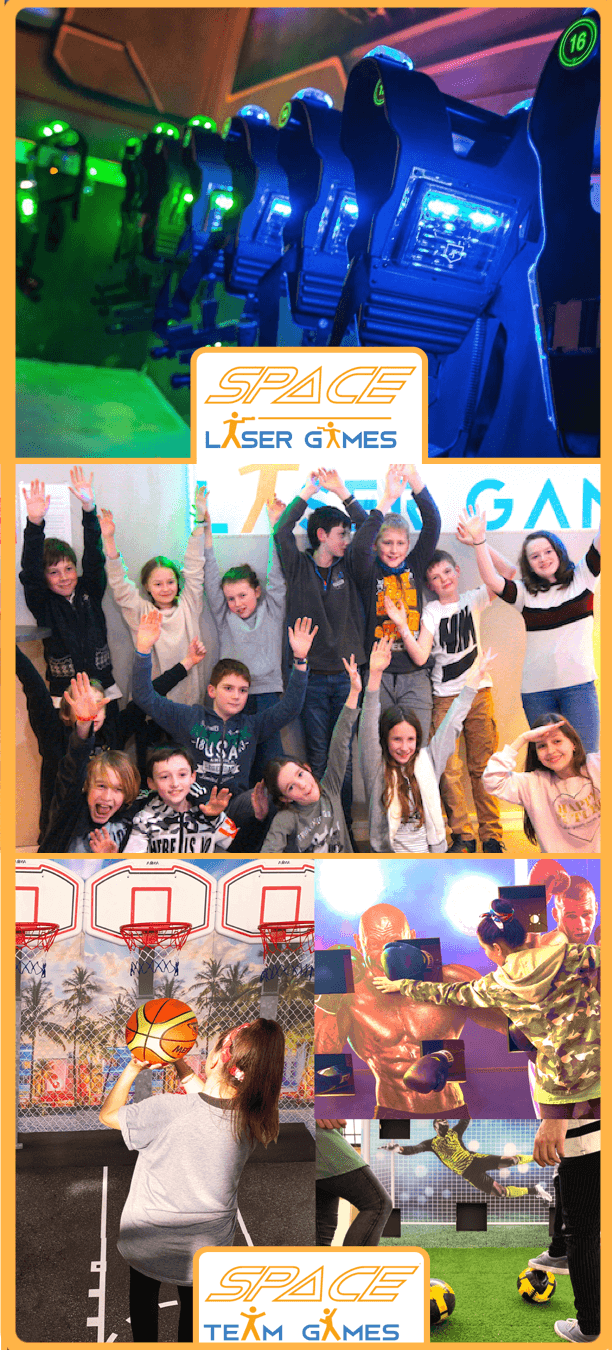 Shopping Saint Michel – mall area
Parking (Brico – Carrefour) entrance:
in front of 1, Rue de l'Escadron
1040 Etterbeek
Tel. : +32 (2)720 01 23
Metro Thieffry (line 5),
Tram Boileau (lines 7 and 25) and Montgomery (line 81),
Bus line 36,
Free parking.
Space Laser Game Brussels
Parking gratuit 2H
Shopping Saint Michel,
Entrée du parking Carrefour:
en face du 1 rue de l'escadron
1040 Etterbeek
Tél. : +32 (2)720 01 23